Environmental sustainability is set to become a paramount mission for governments and especially businesses in the future, and appliances will be at the forefront of this charge.
However, when it comes to reducing the carbon footprint of not only the current generation but also the next, ingenuity, in the form of potentially radical changes, will have to happen.
These changes may not be completely revolutionary, but instead subtler and less socially evasive. A change to environmentally healthier fuel sources in UK homes, different materials in your washing machine and dishwasher, appliance manufacturers adapting their products to new healthier fuel sources.
On the other, there'll be those solo inventors and start-up companies looking to completely reinvent the wheel with their less carbon evasive and better plans.
The overall technological change happening at the moment is the increased use of app-controlled appliances. Specifically, laundry appliances. These laundry appliances will be designed for hands-free use after activating them remotely.
We'll be delving into five appliances that are set to reinvent the wheel, breeding social and environmental change.
5. Bio Robot Refrigerator
Designed by the Electrolux Design Lab 2010 Finalist, Yuriy Dmitriev, the BioRobot refrigerator doesn't need a motor or any other of the usual technology most refrigerators have. The reason behind this is that the luminescent green gel does all of the work. The way these fridges work comes straight out of a sci-fi film. The green gel absorbs the food you shove inside and it's cooled and floating inside it until you need it again. The green gel has no odour and is not sticky. It's called biopolymer gel, and it's going to be the blood that keeps the appliance going.
The cooling agents derive from the 'bio robots' tethered into the gel's composition. It uses luminescence which is a light generated in cold temperatures in order to preserve food.
Unfortunately, since being a finalist back in 2010, there hasn't been any sort of updates in terms of physical evidence or just general developments in general. This might derive from the fact that Dmitriev doesn't know exactly how it's going to operate. Meaning that the BioRobot refrigerator might not be something tangible until the foreseeable future.
4. The Panasonic Self-Driving Fridge – 'KU'
Panasonic decided to skip the app-controlled function and go straight into the voice-controlled realm with its self-driving fridge called Ku. Back in late 2017, the company displayed their first demo of Ku. You might be thinking it's just one of those robot vacuum cleaners with a slick, futuristic square box placed on top with an Alexa function for a brain. And unfortunately, you'd be (slightly) wrong. After calling "Fridge, come to me", it uses its LIDAR and depth sensor to navigate around your house without bumping into anything.
Although you might be thinking that real-life is replicating some type of dystopian world where we're permanently sat down and things come to us, this appliance is actually designed for those with mobility issues and seniors. This would substantially reduce the likelihood of elderly accidents, and also the number of kitchen trips, too. Though, of course, this would also most definitely be used by those who aren't the target audience.
Unlike the BioRobot, Panasonic's Ku has physical evidence of its concept, even though it's a few decades away from zooming around our homes.
3. The Snail: Micro Induction Heating
A transportable heating and cooking tool primarily based totally on magnetic induction processes. Such is the scale and flexibility of the Snail, it could be caught without delay in a pot, a pan, a mug etc to warm the contents. This reduces the quantity of area required for traditional cooking at the same time including portability to the manner. Powered via way of means of a high-density sugar crystal battery, the Snail converts the electricity from the sugar, heating up a coil to behaviour the magnetic induction manner to the utensil. Inbuilt sensors discover the meals kind being heated for you to routinely alter the time and temperature. An easy touch-touchy show with an interface enables to reveal the manner. Design via way of means of Peter Alwin, India.
2. The Kitchen Hideaway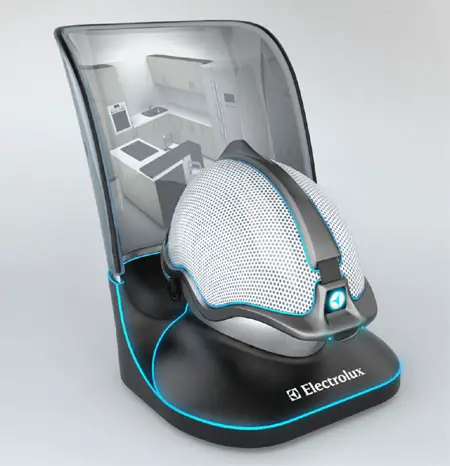 With Meta (Facebook) leading the charge with virtual reality and virtual augmentation, this virtual reality concept seems to be leading the way in the kitchen appliance industry. The Kitchen Hideaway lets in the population of a communal construction to assume being in a kitchen, making ready a selected meal instead of having to genuinely try this for themselves. The mind of the person is then transmitted to robot cooks in the construction who then put together the visualized meal in an actual kitchen and with actual ingredients. In effect, the headset replaces the want for kitchen home equipment in person dwellings, saving areas thru innovative thinking. Design through Daniel Dobrogorsky, Australia.
1.  GAIA: Wall Mounted Air Purifier
A self-sustaining, wall-mounted 'non-public ecosystem' that creates strength from a residing wall of flora supplying air circulation, air purification and temperature manipulation abilities. Envisaged as a non-public contact of green, the wall devices are modular, in order that they may be outfitted into houses and flats of various sizes as required to offer individualized easy air even as taking not less than space. Design through Ankit Kumar, India.
Charlotte Harris
Hotpoint dishwashers are known to be reliable appliances. However, when they do break down, it can be tricky to troubleshoot the problem. This article will go over some of the most common Hotpoint dishwasher error codes and what they mean.
Charlotte Harris
LG is a well-respected brand in the world of home appliances, and their washing machines are no exception. In this article, we will delve into the world of LG washing machines and how to troubleshoot and fix common issues that may arise.
Charlotte Harris
Samsung washing machines are a popular choice for households around the world. This article will explore some of the most common Samsung washing machine error codes and their possible causes, as well as provide some tips on how to resolve these issues.