How to Buy a Humidifier: All You Need to Know
A humidifier might seem like that gadget that can only be seen in the living room of a wealthy family's home. Part of the architecture rather than an actually useful piece of technology. But it's actually an incredibly efficient and handy piece of modern tech. (Don't worry it's not a quesadilla maker).
A humidifier is a simple appliance that regulates the humidity of your bedroom, living room or any other compact room in your house. You're probably thinking: "Ok, so what? Why do I need it?" Well, when we apply science it all becomes clear. Indoor allergens are the major contributing factors to allergies such as sneezing, post-nasal drip, itchy eyes and asthma symptoms that if left untreated could lead to serious repercussions.
Especially here in the UK, where most of the 365 days are cold and therefore spent at home, which is the prime recipe for more pronounced symptoms. A humidifier helps keep your nasal passages moisturized, keeping them nice and moisturized. Humidifiers also, studies have found, help decrease airborne pathogens, decreasing the risk of getting sick.
Somethings to Look For:
Noise. This really depends on where you're thinking of placing your humidifier, as most humidifiers do make noise – although little – and if you're a light sleep then you might have to look for more expensive models.
Cleaning. Much like with your oven, microwave, and any other kitchen appliance, a humidifier will need to be cleaned every week. It'll be more often depending on your usage.
Hygrometer. It's nice to know the room's humidity level, and a hygrometer does just that.
Water tank. It's simple: a larger tank means fewer refills.
Below is a list with four categories: Tight budget, Medium budget, Large budget, Super High Budget.
Tight Budget Humidifier: Everlasting Comfort Ultrasonic Cool Mist Humidifier
The Everlasting comfort ultrasonic cool mist humidifier is a perfectly versatile humidifier. It's perfect for bedrooms, kitchens, bathrooms, living rooms, and thrives in large rooms. It has a 6-litre tank, working in rooms over 500 square feet and more than lasts for up to 50 hours. Not only does it have a large tank and thrives in large rooms, but it also circulates fragrant oils into its cool mist, providing you with a pure and fresh smelling aroma throughout your room and house.
It's also an almost inaudible humidifier, too. It has less than 30DB and completely shuts off automatically once it runs out of water – making it safe to use in your baby's room.
The main selling point of this humidifier is that it doesn't require a filter, meaning you won't have to replace and keep buying filters, and instead pay the upfront cost of the humidifier itself and that's it.
It retails for £55.99 on Amazon
Medium Budget Humidifier: Levoit Air Purifier for Home
The Levoit air purifier separates itself from the competition by not using UVC light and Anion which other competitors use, meaning it's a 100% ozone free humidifier. Something that is incredibly detrimental is if you have children and members who suffer from asthma. Not only that, but the Levoit has an efficient and thorough procedure of humidifying, something they name the advanced 3-stage filtration system. The pre-filter, true HEPA filter and high efficiency activated carbon filter. Using this 3-stage process it captures pet hair, dander, smoke, odour, and other large dust particles. It also removes airborne contaminants smaller than 0.3 microns.
It retails for £79.99 on Amazon.
Large Budget Humidifier: LACIDOLL Home Bedroom
The LACIDOLL is the ideal humidifier for large households, due to its size and large tank size of 2.1 gallons, lasting for 36 hours straight without the need for filter replacement. It has three mist settings adjustable between low, medium, and high mist output. And not only that, but you can also fill it up directly from the tap. It also has a humidity-detecting feature (humidistat) which perfectly detects the humidity of your room, helping decrease the humidity to a safe level. Automatically adjusting your humidity level from 35% to 90%, giving you an optimal indoor humidity level.
It also has a nice wide opening water tank for easy, effortless refilling without any spillages, and is super easy to clean and do the weekly maintenance on, preferably with a wet cloth. And the main drawing point is that it's a filter-less humidifier, saving you money and meaning the only thing you'll have to pay is the price of the humidifier itself.
Super High Budget Humidifier: Dyson Pure Hot And Cool Air Purifier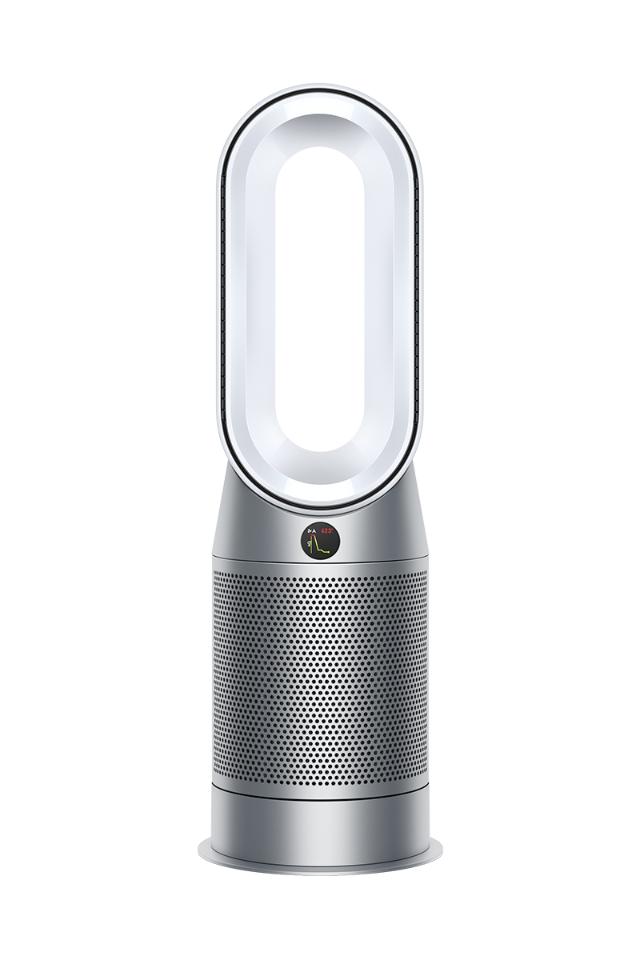 The Dyson Pure Hot and Cool Air Purifier is quite a leap from the LACIDOLL, but the beautiful thing about the Dyson is that it's a fan, heater, and air purifier. A triple-threat combo of versatility. It's a great appliance to place anywhere in your home: it can be used as a fan when you're feeling a bit cool, as a heater during the winter when you don't want to turn your house into an oven, and of course, as a humidifier.
It's not only a rudimentary (power it up by pressing the central button) and straightforward piece of gear, but also an incredibly modern appliance, which can be used through your mobile.
The biggest and most impressive thing about the Pure Hot + Cold is that it purifies the air in your room, compared to basic fans, which simply guide and move air around. You can also purify the air and cool everything at the same time.
So, let's hope after reading this article your mind about the usefulness of a humidifier has been altered, and maybe even, to the point of placing one of them in your basket. And if you have just ordered a brand new humidifier, then make sure to check our maintenance guide for humidifiers coming soon.
Charlotte Harris
Hotpoint dishwashers are known to be reliable appliances. However, when they do break down, it can be tricky to troubleshoot the problem. This article will go over some of the most common Hotpoint dishwasher error codes and what they mean.
Charlotte Harris
LG is a well-respected brand in the world of home appliances, and their washing machines are no exception. In this article, we will delve into the world of LG washing machines and how to troubleshoot and fix common issues that may arise.
Charlotte Harris
Samsung washing machines are a popular choice for households around the world. This article will explore some of the most common Samsung washing machine error codes and their possible causes, as well as provide some tips on how to resolve these issues.